The McAfee Removal Tool 2012 is another handy software repair tool to have in your arsenal, usable by both computer repair professionals and home users alike.
The McAfee suite of security products, including McAfee Anti-Virus, McAfee Internet Security and the rest of the range, often leave various files and registry entries behind on your computer after an uninstall. This could be because of a crash during the uninstall, a conflict with another program, or just that the uninstaller program does not remove everything that it originally installed.
When one of these products is not fully uninstalled, your computer can still think that the McAfee product is installed, even though most of the files and registry entries are deleted. This can cause problems if you try to re-install the McAfee product again or if you try to install another anti-virus program.
This is where the
McAfee Removal Tool 2012
comes in. It is a standalone, portable application that has only one purpose – to remove absolutely every file and registry entry from your computer related to McAfee security products.
As with all anti-virus removal tools, the best approach is to attempt to uninstall the McAfee program using its own uninstaller first. From Windows Control Panel, go to Add/Remove Programs or Programs and Features depending on your version of Windows, select the McAfee program you want to remove and click Uninstall.
A good time to run the McAfee Removal Tool 2012 is just after this process has finished, to tidy up any loose ends.
Who knows why they don't just use something like this automatically after an Uninstall, or just fix the Uninstall so that it works properly, but these anti-virus removal tools continue to be required every time.
Read more about McAfee Removal Tool.
Download McAfee Removal Tool 2012:
Download McAfee Product Removal Tool
Screenshot of McAfee Removal Tool 2012: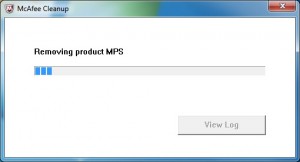 Related Posts: