For a free anti-malware tool, MalwareBytes Anti-Malware is as good as you can possibly get.  It is so easy to use and it can pick up threats and potential issues that can be ignored or missed by your anti-virus program.  I would thoroughly recommend this tool to anyone, from computer novices to computer repair experts.
The free version of MalwareBytes Anti-Malware is an on-demand malware scanning tool.  It can happily co-exist with your anti-virus program so you don't need to worry about the different programs clashing or interfering with each other.
How to use MalwareBytes Anti-Malware:
Before you run a scan with this tool it is important to make sure it has the latest anti-malware definitions.  These are updated every day, if not more often.
New threats are being added to the anti-malware definitions all the time, so if you are up-to-date you will have the best chance of catching any malware that is hiding on your computer.
To update, click on the Update tab along the top, and then click the 'Check for Updates' button.  This will check for and download the latest anti-malware definitions.
Also, if your version of the program is quite old, it may download a new version of the program for you.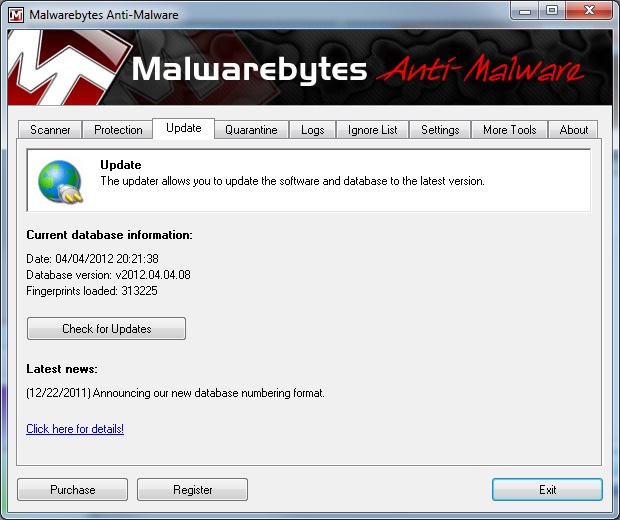 To run a scan, click on the Scanner tab along the top.  There will be a couple of different options, running a Quick Scan or running a Full Scan.
A full scan will scan your entire hard disk and a quick scan will just scan the common places that malware tends to hide.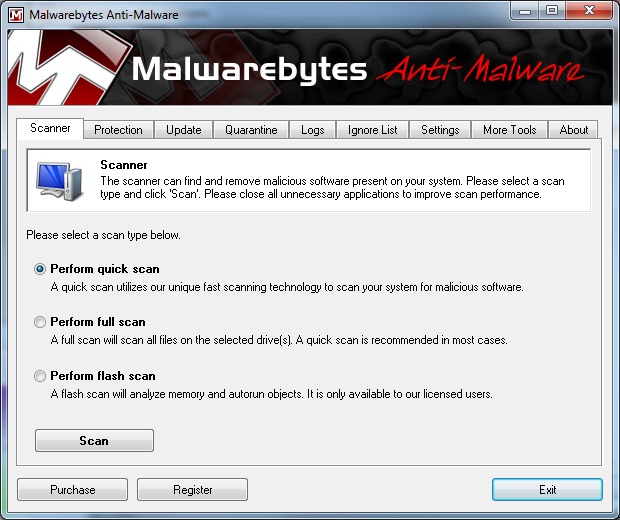 I would recommend running a Quick Scan initially.
If it finds a lot of items, you can run a Full Scan as well, in case there are other files lurking.
When the scan is complete, a list of detected problems will be displayed.
To remove the detected items, make sure all of them are ticked and click the 'Remove' button.
Usually I like to run another Quick Scan after removing the detected items, just to double check that they are gone.
If they are still there, there's a chance that it is a more agressive form of malware that is re-installing itself.
If this is the case, it's time to take your computer to a professional, to have the problem fixed properly.
Related Posts: