Have your desktop icons disappeared?  Are your files and programs that were on your desktop not there any more?  If so, here's how to fix it.
Whenever we refer to your desktop on a computer, we are referring to a view of your screen without any program windows being in the way.  So if all programs are closed or minimised, what you can see is called your desktop.
Desktop icons are the little images that represent files or folders.  They can also be shortcuts to files or folders, or shortcuts to web pages.  Whenever you click on one of these icons, the relevant program will start up and open the file or folder or web pages.
Your Windows desktop icons can disappear for various reasons.  After a computer crash, it's possible that the setting for this got set accidentally.  Or it could be the result of a computer virus or malware.  Or it might be caused by someone doing it maliciously as a result of the recent 'Microsoft' phone scam calls.  Or it could just be that you accidentally clicked on your screen a couple of times with the right sequence of right clicks and left clicks to hide your desktop icons – the opposite of what this guide is about to show you.
Getting your desktop icons back on Microsoft Windows Vista or Windows 7
To start to get your desktop icons back, place your mouse pointer anywhere on the empty screen and right click (press the right mouse button).
A little context menu will appear underneath your mouse pointer, which will look like this,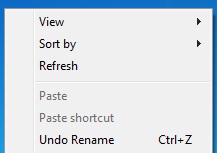 If you point your mouse at the 'View' item in the context menu, you will see this sub-menu appear,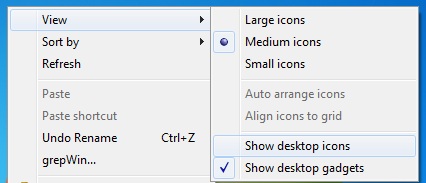 One of the options at the bottom of the sub menu is 'Show desktop icons' and you will see that it is not ticked.  If you tick it, your desktop icons, files and programs will all appear again.
Related Posts: